Uhuru Watch
Elected and Appointed: Nigeria's First Female Senators
Despite the widespread belief that
Franca Afegbua
was Nigeria's first female senator, studies by Nigerian historians have shown that
Wuraola Adepeju Esan
holds that distinction. The divergence stems from a linguistic point.
While Franca was the first elected Nigerian female senator, representing
Bendel North
in the Nigerian Senate in 1983 under the
National Party of Nigeria (NPN)
, on January 8, 1960, Wuraola became the first appointed Nigerian female senator whilst she was selected to represent Ibadan West at a joint meeting of the Western House of Assembly and the House of Chiefs held in Ibadan, the capital of the Western Region, establishing her as the very first Nigerian female senator.
Esan's appointment to the senate, nevertheless, does not render her title invalid in any way, as appointment to the Nigerian Senate was a constitutional requirement in 1959. According to
Article 37 of the country's 1959 constitution
, the Senate is made up of (a) twelve Senators representing each Region, who shall be selected at a joint sitting of that Region's legislative houses from among persons nominated by the Governor; (b) four Senators representing the Federal territory (Lagos); and (c) four Senators selected by the Governor-General, acting on the advice of the Prime Minister. Once Esan was appointed to the Senate in 1960, she became the first woman to hold that office, joining a body that otherwise consisted of 47 men.
Despite being excluded from Nigerian history textbooks, these two women made significant contributions to the advancement of many Nigerians, especially women, and their legacies continue to endure long after they are gone.
Those unfamiliar with their stories may be curious as to why they are so revered and wonder why so many Nigerian women believe them to be role models. If you're curious too, here are some important details you need to be acquainted with...



Wuraola Adepeju Esan

Sixty-three years ago, Wuraola Esan, a Yoruba lady from
Ibadan
, became the first woman to serve in the Nigerian Senate before and following the country's independence. Although women were increasingly involved in political activities in the southern part of Nigeria, they were mostly considered agents of mobilization for elections, thus explaining why Esan was one of the few Nigerian women to be actively involved in politics at the time.
In 1909, Esan was born in Calabar,
Cross River State
, to
Chief Thomas Adeogun Ojo
, a First World War soldier and forestry officer, and
Madam Ajike Ojo Aina
, a successful businesswoman who was referred to as Iya Gbogbo (mother of all).
She got her start in school at
Ibadan's Sacred Heart Covenant
. After graduating from Sacred Heart Covenant School in Calabar, she attended
Baptist Girls College in Idi-Aba
, Abeokuta, Ogun State, and the
United Missionary College
to gain her credentials as an educator. As a result, she was offered a position at a missionary training school in Akure, Nigeria, where she would teach courses on domestic science. In 1938, she wed Victor Esan, a civil servant in Ibadan; the couple eventually had four kids.
To educate women in various fields, including domestic science she founded the
Ibadan People's Girls Grammar School
in Molete in 1944.
Before her ascension to national political prominence, Esan had already set herself apart based on her belief that women must be twice as successful and efficient as men to be recognised in a culture where they are traditionally accorded lower status.
Funmilayo Ransome-Kuti
, the brave activist who stood for a seat in the Western Region Assembly as the candidate of the National Council of Nigeria and Cameroon (NCNC) in 1951 and lost, could be mentioned as a precursor to Esan's political engagement.
After a career as a teacher and advocate of equal rights for women, Esan entered partisan politics in the 1950s as a member of the
Action Group (AG)
. She won a seat on the Ibadan Urban District Council in 1958. The Western Region's Premiers,
Chief Obafemi Awolowo
and
Chief Samuel Ladoke Akintola
, as well as other famous Yoruba political leaders, all considered the AG home throughout its period as the region's leading party. Before the
friendship between Awolowo and Akintola soured
, the party was widely regarded as a pan-Yoruba political entity and held sway over regional politics for quite some time.
Iyalode Esan was a "fierce critic of corruption and tax evasion," according to her biographers, but her name is almost completely lost today.
Denzer LaRay
recalls Esan's ability to defuse tense situations by quoting her as saying, "I have the power of combating those people who want to fight me better than men because when you smile sweetly when your enemy is coming there will be no fight."
She spearheaded campaigns to increase funding for women's education and expand access to career development resources for women.
She spoke out fiercely against the provincial government's move to restrict voting rights for women in the region's northern province. This decision made it so that courageous activists like
Gambo Sawaba
, the most jailed Nigerian female politician, couldn't run for office.
The appointment of Esan to the senate came about as an outcome of a meeting between the AG of the ruling party and the NCNC of the opposition, which led to an argument and a walkout by NCNC members.
Dennis Osadebay, leader of the NCNC, which only had 27 members in the Western Assembly to the ruling AG's 54, argued that the proportional representation of the two parties in the Senate should be mirrored in the House of Representatives. Instead of agreeing with Osadebay's proposal, the ruling party indicated it would only grant the opposition three seats if the Eastern Region administration, where the NCNC is in power, granted the AG three seats.
Legislators from the NCNC walked out after they were unable to strike a compromise, and the Premier of the Region Ladoke Akintola selected 12 Senators to fill the void. Olajide Somolu, Chief Sanmi Esangbedo, Dalton Asemota, Chief Solomon Huponu-Wusu, M.G. Ejaife, E.A. Lagunju, Wuraola Esan, Chief T.A. Odutola, Chief J.S. Olayeye, P.A. Ogundipe, S.A. Eyitayo, and Dr J.O. Omitowoju are among them. Oba Adeniji Adele, the monarch of Lagos, was also named to represent the city as a representative of the Federal territory.
As a founding member of the
National Council of Women's Societies
, she continued her advocacy work when she left the Senate. After having to withdraw from politics following the 1966 military revolution, she was honoured with the title of
Iyalode of Ibadan
on May 9, 1975. This was the highest chieftaincy title available to women in Ibadan at the time.
Professor Jadesola Akande
, her youngest child and former Vice Chancellor of the Lagos State University (LASU), succeeded
Professor Grace Alele Williams
of the University of Benin as the second woman in Nigeria to be appointed Vice-Chancellor.
Iyalode Esan lived to see Franca Afegbua of Bendel North in modern-day Edo State become Nigeria's first female elected senator in 1983, just before she died in 1985.




Franca Afegbua



Born in
Okpella
, Edo State, Franca Afegbua attended college in Sofia, Bulgaria. Ahead of the second republic, she was a high-end hair stylist in Lagos who later went on to win an international hairstyling competition in 1977.
Afegbua's close friendship with
Joseph Tarka
led to her joining his NPN party. Few people gave her much of a chance when she first declared her candidature for a
Bendel Senate
seat in 1983. The governor and senator in office at the time she ran were both well-liked figures who belonged to the opposing party. But she estimated that if she could get more women to vote, she would win.
Her hairstyling competition win gave her an iconic status among Etsako women, so she geared her campaign toward them. She won the election by a razor-thin margin in August, defeating John Umolu, a 64-year-old senior politician and trade unionist. His political background included serving as the first non-indigenous Mayor of Port Harcourt as well as time devoted to both the Eastern and Mid-Western Houses of Assembly. He had also served as a minister of agriculture and establishment in his region. The
Unity Party of Nigeria (UPN)
was in power at the time in Bendel State, and he was a member of that party.
In addition, there was Bendel State Governor,
Professor Ambrose Alli
. He was another prominent person since he was a member of the UPN and because he was responsible for several successful development projects in the State. There was, of course, the prevalent patriarchy and societal and cultural prejudices that women should not be involved in politics.
While many people celebrated her historic victory, others claimed that it was all thanks to her relationship with the late Senator Joseph Tarka, a prominent figure in Benue, rather than her own efforts to win over voters in her region.
In her words, when asked how she secured her party ticket in a male-dominated environment, she said, "I expected opposition so it was not a surprise. I just ignored it and went ahead to do what I wanted to do. I was able to get the party ticket the same way as everybody else. I was able to persuade people to vote for me by telling them why I was going into politics, which was to represent my people and be a voice for them. I answered any question anyone asked. I was also up against other women and youths."
Senator Afegbua also acknowledged the importance of financial resources when running for office. However, she stressed the importance of grassroots mobilization in winning elections. She couldn't remember how much she spent on the campaign, but she said it wasn't a lot. She also stressed that "Not all men will support women. Some will support and some will not." In essence, she argued that women shouldn't let the fact that they might not have the backing of all men stop them from running for office.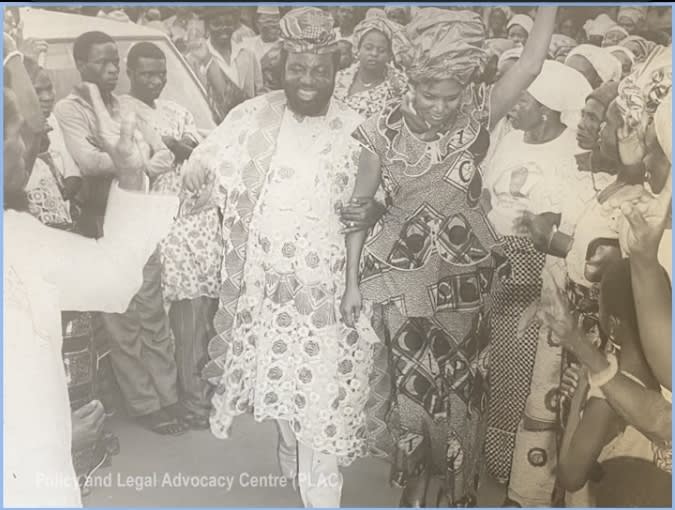 It wasn't until October 1983 that Nigeria's first elected female Senator, Franca Afegbua, was sworn in alongside the country's first elected male senators. Two or three other women were reportedly elected to the House of Representatives at the same time. Some of them were Sa'adatu Kande Balarabe and Olivia Agbajoh-Okedeji.
Nonetheless, Afegbua's term as senator for Bendel only lasted from October 1983 to December 1983, due to the
1983 military coup
led by Muhammadu Buhari which ended the 2nd Republic of Nigeria.
Kassim Afegbua, one of her younger nephews and a journalist who once worked as the Commissioner for information in the Adams Oshiomhole government in Edo State and is now a member of Tinubu's Presidential Campaign Council,
announced her death
on March 12, 2023.
Almost four decades later, little has changed in terms of political marginalization of women and a male-dominated legislature. Nonetheless, these women's experiences demonstrate that any woman, regardless of who she is or where she comes from, is capable of pursuing a career in politics.
Given the already low percentage of women elected to the legislature constantly declining, the history and challenges of female politicians like Senator Afegbua who have braved their way against the tide by running for positions of power, ought to serve as an eerie reminder of the pressing task to be done to establish an accessible political space for women.