Film
In Aníkúlápó, We are shown that the Grass isn't that Green for Women
Award-winning director and producer Kunle Afolayan is back with another outstanding movie after his 2020 "Citation". On September 30, 2022, Netflix released Kunle Afolayan's new fantasy film "Anikulapo".
The movie, set in a pre-colonial Oyo kingdom, narrates the story of Saro (played by Kunle Remi), a traditional textile weaver who arrives in Oyo to build a better life after being sold off to pay his parent's debt.
With great concepts and visuals, the movie tells of pride, betrayal, and death but, ultimately, even though set in the 17th century, carries timeless sociological themes depicted through the female characters - Awarun (played by Sola Sobowale) and Queen Arolake (played by Bimbo Ademoye).
Awarun, The "Man-Eater"
Like a folktale, Anikulapo employs storytelling to pass a moral lesson to its viewers.
Firstly introduced, Saro entered the Oyo kingdom and was welcomed in Awarun's yard. The setting adds authenticity to the movie as the mud building with thatched roofs speaks of traditional African buildings.
Awarun is observant of Saro and wisely advises him to work and save up. Awarun employed him as a clay moulder before sponsoring his weaving business.
Portrayed as a middle-aged woman mostly seen in Buba (Blouse) and Iro (wrap-round skirt), Awarun's ulterior motives are highlighted as she starts sleeping with Saro - a transactional affair. Awarun's role enables the movie to display Yoruba communities where a woman can run her factory and participate in the king's meetings with the chiefs of the village.
However, the female characters are all categorised and play a particular role in the community. Awarun becomes a dominant woman, described as "having a form of a woman but [she] is a man." Her ability to take control of her life and how she fits after leaving her husband's house goes against a typical marriage complex.
She then is rumoured to be a "man-eater", attesting to fear of female sexuality. She embodies an unconventional femme-fatale whose workers were once her lovers enslaved. It appeals to a notion of emasculation, which further sets her in a spotlight of dominance and empowerment. It makes her the fit character to echo and build suspense before the climax as she warns Saro for taking something that is not his - Queen Arolake.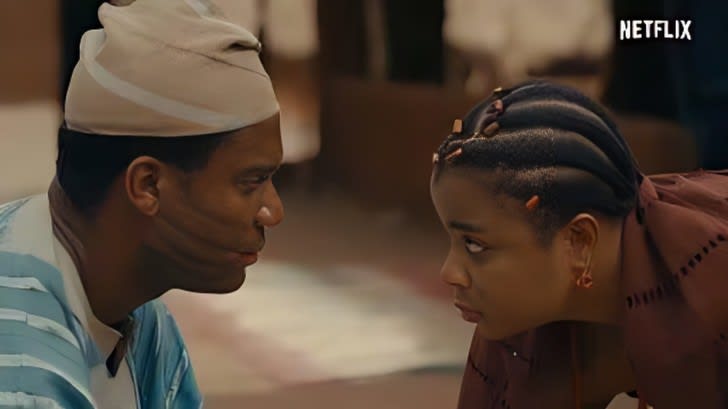 Arolake, "The Barren Queen"
Arolake is the youngest, favourite queen of the Oyo king, whose inability to have children is dart target centre for her mistreatment. Similarly to Awarun, her characterisation sparks the discussion regarding the value of women in societies. When Queen Wojuola, one of the older queens, returns Arolake's mirror, she speaks of the constructed role of women: "We all have our uses here in this palace. Some of us, we are to bear royal sons and daughters for his highness. But you...Yours is different. You're just nothing but for the king's pleasure. You're useful for nothing else."
In an overview, this points to the basic societal concepts of motherhood and womanhood. The conceptualisation draws out the timelessness of the movie where, in society, a woman who is perceived to stand as a symbol of pleasure is seen as a rival but equally holds no importance if she is infertile.
Arolake almost embodies a femme fatale after pretending to have a fever to get the king to her room while he was with another queen. However, she later falls fragile, symbolically similar to her expensive mirror broken by Queen Wojuola.
Kunle Afolayan's use of mournful music captivates the audience, allowing them to understand Arolake's despair better.
Furthermore, confirming her as merely a symbol of pleasure, Saro first sees Arolake in a red Aso-ofi, and her affair with Saro, shown to be initiated by her, makes her overly objectively sexualised. Bimbo Ademoye excellently embodied Arolake's character and radiated beauty with the help of admirable costumes. The traditional fabrics, red beads, and hairstyles honour the beauty of Yoruba culture.
Saro (Kunle Remi) and Queen Arolake (Bimbo Ademoye) in Anikulapo.
Even though Arolake and Saro's chemistry and body language spark enticing elements of forbidden love, their love story is underdeveloped. Apart from their sexually explicit scenes, there were no scenes or extended dialogues that built further their story.
Hence, their decision to elope may come from a place of emotional vulnerability. Married to the king at 15, Arolake longs for her romantic tale free of her entrapment, and the moon references advocated for it. Saro, her secret moon lover, is killed for this illicit affair.
This climax engages the viewers to the edge of their seats as the mythical Akala bird resurrects Saro. Arolake is seen to strike Akala and later places the power to resurrect death to Saro, who earns his name Anikulapo (Aníkúlápó) - he who "holds death in his purse" in another village, Ojumo.
Both Saro and Arolake, as firstly portrayed, may be said to have died during the event. They have seized an opportunity to change their destiny. But what is a folktale without its elements of a character's hubris and demise? Saro's sense of invincibility and power obliterate his sense of reasoning.
Not only did Saro break and humiliate Arolake, he sexually assaulted their maid, Omowon, who later becomes one of his wives.
"What a fool I've been," Arolakes regrets as she looks at Saro who has now transformed from her moon lover to a "highly ungrateful beast of a man." As Saro slaps her, the viewers also do get slapped with a sense of reality where the female characters are truly confined within societal structures and expectations.
Outstandingly cinematographically, the movie depicts Yoruba history, culture, and tradition. It also carries authenticity as the dialogue is in the Yoruba language; with its incorporation of myth and folktale, the moral lessons sparked digital conversations of gender roles and relations. Anikulapo is truly a masterpiece that not only entertains the viewer but invokes a reflection on cultural values.