Uhuru Watch
Young Nigerians Review The Presidential Elections
On the 25th of February 2023, Nigeria conducted her 7th presidential election. The elections were marred by conflict, marginalisation, ineptitude and inadequate planning by the electoral commissions and agitations across the country. The 2023 elections are undoubtedly a defining moment in Nigeria's history in a time of division along ethnic lines, inflation and cash shortages, and rising fuel prices coupled with scarcity, unemployment, and insecurity.
Many Nigerians, young Nigerians especially, viewed these elections as a chance to effect change. According to the Independent National Electoral Commission (INEC), out of a total of 93,469,008 eligible voters in its voters register after the final cleanup, youth voters accounted for 39.65 per cent of the eligible voting population; the highest demographic.
According to the Premium Times, per the figures provided by INEC, the total number of eligible voters rose by 9,464,924 from the 84,004,084 recorded in the 2019 general elections to 93,469,008 eligible voters in 2023. However, of the 93.4 million registered voters this year, while 87.2 million people collected their Permanent Voters Card, the total number of voters on election day was 24.9 million.
Uhuru Watch put out a survey, asking young Nigerians about their experiences at the presidential elections and their plans and expectations for the upcoming gubernatorial elections. We asked the voters to rate and describe their experiences voting and whether their experiences would deter them from voting at the March 18th gubernatorial elections.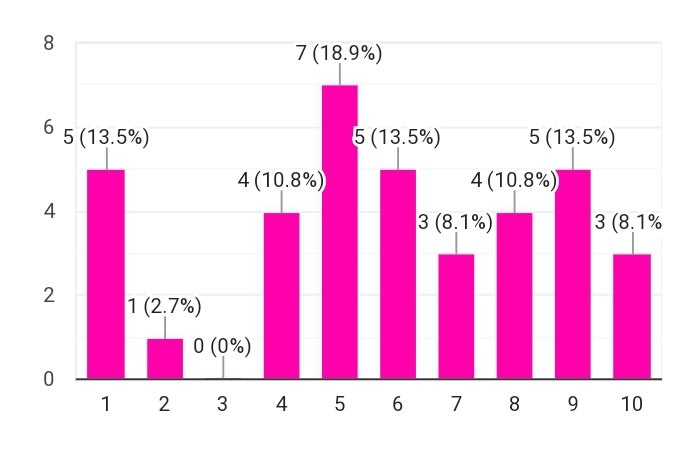 Over 50 per cent of responders still intend to vote in the gubernatorial elections, however, some of them do not intend to go out to vote again, and for good reason. The mismanagement of the presidential elections is stoking apathy in some responders, many are undecided, while most still intend to vote.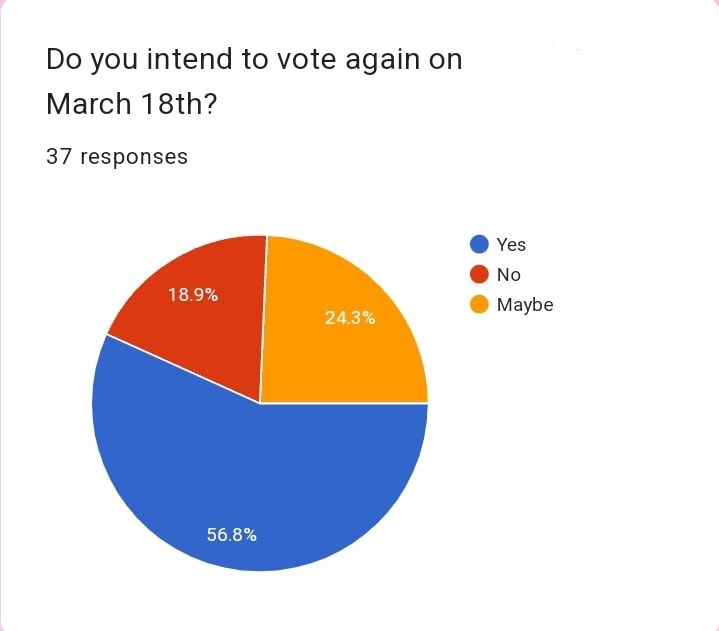 In the week leading up to the gubernatorial elections, messy smear campaigns have weaponised tribalism and continue to stoke ethnic bigotry to sway voters in Lagos. The atmosphere is tense and many fear that the gubernatorial elections may be even more violent than the presidential elections had been.
29-year-old EA says,
"My centre was disrupted by thugs. Orile Moba, Ajah Ilaje area in Lagos. At my voting centre, there was a different queue for accreditation and for casting your vote (collecting the ballot paper etc). Everyone at the voting centre had completed the accreditation process and we were waiting on the other queue for the ballot papers. The queue was moving incredibly slowly. While we waited, thugs came and disrupted the entire thing. Pulled down canopies, and tried to fight an NCDC officer (he was firing shots in the air to disperse them). The ballot boxes were protected by the rest of the officers but they couldn't do much because they were outnumbered. The thugs continued to cause a ruckus (they almost seized my phone cos I was trying to take pictures of the officers guarding the ballot boxes. They took another woman's phone and went through it to delete the videos she captured.) After some time a van of policemen came, sirens blaring, and the thugs ran away like the cowards they are. INEC said they couldn't continue and started counting the votes. I was very upset so I left and didn't wait for the count. I didn't consider it at that point, but I realised later that having completed the accreditation process and being unable to cast my vote, my vote (along with about a hundred other people on the queue) might have been stolen. Also, note that about 4/5 smaller fights had broken out while I was there."
EA will not be voting on Saturday.
"I was actually not going to vote in the presidential elections until Peter Obi emerged and changed my mind. As a result, I could not change my voting centre in time. I moved out of Ajah years ago because the area got very violent and volatile. I was very scared going there to vote and as it turned out, my fears were not unfounded. I will not be voting in the gubernatorial elections because I do not want to die abeg. This one is gearing up to be more dangerous than the presidential one. Not to be somehow, but this whole ethnic bigotry campaign has made me more fearful. I'm not Igbo (I'm Etsako) but to these people, it is all the same. I also don't want to waste my money again, I paid for a hotel for the presidential elections and I didn't even vote."
For 33-year-old Attah Olaolu Adejo who voted in Abuja, the process was hassle-free.
"I couldn't find my PVC. I gave up voting until I decided to take refreshments for my sisters (who were queuing). I got there & was told I could vote (I had to produce some ID). INEC, Police, NYSC members, and Civil Defence personnel were all nice in my polling units (maybe because it is in Abuja)."
29-year-old Sulaiman Shehu voted in Kano and intends to vote again on Saturday.
"The high points are I voted peacefully without harassment or intimidation, the low points are late arrivals of election materials, lack of secrecy when voting and inadequate security personnel at the polling unit. I will vote during the gubernatorial election because the election is too important for my future that I cannot sit idle and allow others to choose someone that may jeopardise my future and that of my state, Kano."
21-year-old Olanma says,
"My polling unit was a small one so it was pretty orderly. Didn't expect all the manual processes though that took me by surprise. I thought everything was actually going to be digital so all the writing, signing and stamping manually was annoying."
She intends to vote again "because I believe we are not done and I really want better for Nigeria. I'm not ready to give up just yet."
Imabong-Abasi, 21, says everything went well at her polling unit in Lagos.
"Everyone just queued and voted. There were no arguments about Obi or BAT or Sowore. Everyone acted sane. She intends to vote in the gubernatorial elections, "because I believe voting is my first step in making Lagos/Nigeria better. It's my right to."
Chiamaka, 25, says,
"It went smoothly in my area. But we expected to start the process by 8:30 am but it didn't start till 11 am because the officials came very late and the whole process lasted till 8 pm before counting finally began. The officials didn't come with some essential tools like the ink for thumbprints and the like so residents had to supply them. It was honestly an unnecessarily stressful process but no one got hurt. Voting is my civic duty as an adult. Although the last elections brought down my morale, it's not enough to stop me from using my vote to choose a better leader for my future."
28-year-old Ama Bassey rated her voting experience 1/10, horrible.
"When the corpers attached to INEC arrived at my PU, they asked to see our voters cards randomly. They checked mine and said that wasn't my PU. They did that to a number of us. They said I was moved to a PU in the state house. I asked them to post the register, as I wanted to confirm before leaving. They said they weren't ready yet, but showed me a schedule written on pen and paper that I was moved. I tried to check the INEC site as I had confirmed the previous day that I was at the right PU, but it wouldn't open. I went back home to get my car and head to the Presidential Villa. I checked 3 polling units there (that place was chaotic) and I wasn't registered in any. Only for a neighbour to call me to come back that they had posted the register and where I was asked to leave was my original PU. "
About Saturday's elections, she says, "They obviously don't want us to vote, but we must to be able to get the change we seek."
Grace, 21, had a peaceful voting experience at her polling unit in Lagos. She says, "nothing interesting happened at my polling unit and everything went smoothly. I, however, was very devastated by the results of the presidential election."
She will vote again because she is determined to try to perform her civic duty and, hopefully, make a change in her state's governance.
20-year-old Babajide said his voting experience at the presidential elections went smoothly however, he will not be voting on Saturday.
"No, because I don't think any of the candidates deserve any of those positions. But then we still have to vote even if it's the least unqualified."
Michael David, 25, says his voting experience went smoothly but the process was quite sloppy. He does not intend to vote on Saturday because "I'm just not sure it won't be rigged again. The integrity of the whole thing has been compromised so I'm not encouraged."
22-year-old Chidinma says her voting experience was good but she is still unsure whether she will vote on Saturday.
For 21-year-old Nana;
"The high point was when my candidate won in my polling unit.
The low point was when the INEC officials blatantly refused to upload the results, they had to be threatened and provided with WiFi before they agreed. I will vote again on Saturday because I have to play my part. The ruling party is shit and they have to go."
Eden Elenwoke, 24, intends to vote again because, "apart from the fact that it's my fundamental civic right, I do believe in Nigeria. My country isn't the way it is because we are incapable of change; it is the way it is because people are benefitting [greatly so] from the lack of everything good & noble. And really, I get cold easily—I don't know any other place with a solid a** climate like here."
23-year-old Jola says "It actually went better than I would have thought. I was in and out in like 30 minutes. I thought it could turn violent so I was prepared to run but surprisingly, everything was quite calm in my polling unit. What I absolutely hated though was the fact that a couple of middle-aged men kept coming to tell me who to vote for. Are they even allowed to campaign at the PU? I didn't want to risk an argument so I couldn't call them out. Instead, I just kept nodding my head to all they said. I would vote again because I'm tired of Nigeria's situation and I truly hope and believe a change will come if we vote in the right people so voting is just me doing my itty bitty part."
Blessing, 20 says "Nothing interesting happened where I voted. The INEC officials came very late, there were no chairs to sit on so I stood for 4 hours." She will not be voting on Saturday because "I don't have a preferred candidate and also because I don't feel it's going to be safe.
21-year-old Oz intends to vote because "I have seen and heard the threats from APC people about Igbo people not coming out, this boosted my will to want to vote whether they like it or not."
AA, 28 had a horrible voting experience and will not be voting on Saturday.
"My polling unit had almost 1000 registered voters, INEC sent just one team and said team was unbelievably slow. Finally, at around 3 pm thugs came and shot up the polling unit and made away with the presidential ballot box. My husband and I are still recovering from Injuries sustained from our last attempt to vote. We cannot risk a repeat of the 25th of February."
30-year-old Ekomobong Okon says,
"The INEC officials came late, they were brought in a political party's vehicle (PDP), and at the end of the counting, they claimed there was no network to upload results. The INEC already looks like they have their winners selected down."
C, 23 had a "terrible" voting experience and they will not be voting again.
"I spent the whole day at my unit, waiting first for the INEC officials to arrive. They did eventually at 12 and voting started at 1 with only one BVAS. I got accredited but was prevented from voting, and even whipped by a soldier at the unit, and the INEC official (also assisted by a soldier) said my name wasn't on 'their list'. Meanwhile, I had my PVC, my data was on the BVAS and I had been accredited, and my info was on the voters' list pasted. It was terrible and so many people were disenfranchised. My polling unit had 3k+ registered voters, and only a little more than 300 people voted. This is why I believe that these federal elections were a sham, and asides the rigging, there was widespread disenfranchisement. Also, no candidate on the poll appeals to me per se. Above all, I was sort of traumatised by what happened. The scars are still on my body and I die a little inside when it occurs to me that I went through all of that and still was not allowed to vote."