Life
Traffickers on the Prowl; Young Schoolgirls in Danger
A large billboard warning about the antics of human traffickers stands tall on the far left side at the entrance of a public secondary school in Benin city. It is strategically placed and hard to miss. The billboard, emblazoned with the words "Don't be deceived, traffickers don't have a job for you abroad", is a constant reminder to schoolgirls who come in and out of the school of the perils of trafficking.
Within the school walls, 16-year-old Gift Osagie went missing. According to her mother, she had left for school that morning and had not returned home. She was reported missing with three other schoolgirls, who were also her friends but Gift had been seen that morning. A classmate noted that Gift had extra clothes at the start of the day but had been marked as absent in the class register.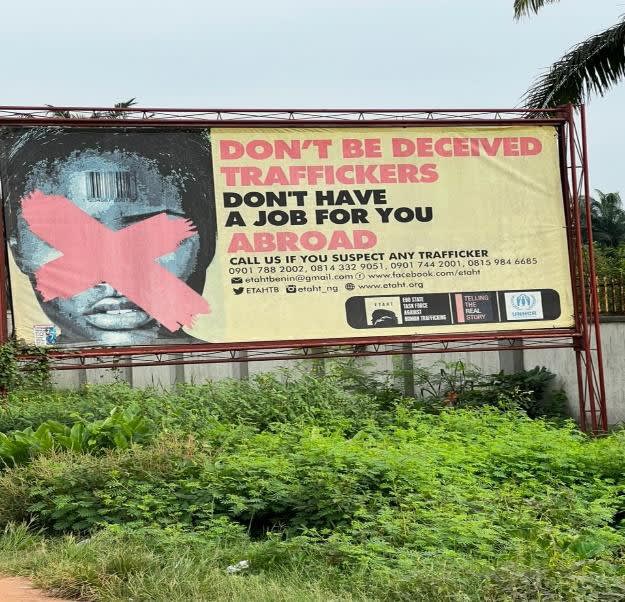 An anti-human trafficking billboard at the far entrance of a Public School in Benin- City
It is believed that traffickers are responsible for the number of missing schoolgirls. Multiple reports confirm this. In February this year, the National Agency for the Prohibition of Trafficking in Persons (NAPTIP), in association with the Department of State Services (DSS), arrested some persons running a brothel in the state. In addition, they rescued eight (8) underage girls and arrested some traffickers transporting some underage girls out of the country.
The Director-General of the National Agency for the Prohibition of Trafficking in Persons (NAPTIP), Dr Fatima Waziri – Azi, in her speech at the 25th National Stakeholders Consultative Forum on Human Trafficking and Presentation of National Action Plan on Human Trafficking and other Policy documents iterated the organisation's desire to combat human trafficking.
She said, "Till date, the Agency has been able to rescue 17,636 victims of human trafficking (394 and counting for the year 2022). In February 2022, with the support of FIIAPP, we repatriated 15 women from Mali who had been trapped in forced prostitution for years. There are over 20,000 Nigerian women and girls in Mali trapped in forced prostitution, forced labour and all forms of slavery who want to come back home. As is in many other African, Arab, Asian and European countries".
Precious O, a young woman whose underage sister was almost a victim of being trafficked to Spain, says;
'' I returned home from work, and my sister was not back from school, which was very unusual. She eventually returned and said she had gone to take her passport photograph. A woman had said she was taking her to Spain, and she needed copies of her passport photographs. It all sounded so wrong and so fast. I listen to some programmes on the radio, and what my sister told me sounded like what they warn against on those programmes. What terrified me most was my sister seemed eager and excited to go. I asked her what she would be doing when she got to Spain, but she had no answer. I guess she didn't think it through. Finally, I had to call my eldest sister on the phone, and we were able to stop her proposed journey to Spain. I have no idea what would have become of her if we had not stopped her. People like that woman my sister came in contact with prey on girls like my sister because they think they are young, naive schoolgirls from poor homes."
Public schools have become sourcing grounds for impressionable underage girls by human traffickers. They lure young girls with promises of wealth and a better life with the aim to traffic these young girls to an ever-demanding market in Europe. However, there has been a new destination in recent times: Dubai.
Anthropologist Sine Plambech, who is specialised in the field of sex trafficking from Nigeria, indicated that women from Edo State in southern Nigeria are now being trafficked towards Dubai in increasing numbers due to the increased difficulty in crossing the central Mediterranean route since 2017.
Mr Nduka Nwawenne, Benin Zonal Commander of NAPTIP, explains that in times past, victims of human trafficking were transported by traffickers by land across Europe; however, now, they are transported by air. He says;
''This is because the human traffickers have stepped up their game, and the choice destination for victims of human trafficking is now Dubai.''
These days, it is easier for traffickers to sell a false narrative of a better life outside the country's shores since their victims no longer have to travel by road. The perils of travelling through Libya by road have been documented in harrowing detail, so these traffickers are changing tactics.
The rise of social media has also made communication between traffickers and their victims easier. Unfortunately, many of these young girls trafficked first find themselves in a web of lies designed to entrap them.
Social media makes connection easier between traffickers and their young victims, who may post personal details like their full names, family details, things they like, and schools they go to on the internet. These details are exploited by traffickers on the prowl, looking for their next victim.
The country's economic situation is also a motivator for girls looking for a better life to consider the advances of traffickers. Poverty is an incentive, and traffickers exploit this fully. They target unsuspecting and naive girls looking for an escape from their bleak reality. Faced with the prospect of escape from their dire living conditions, they fall for the antics of these traffickers. They do not know they are getting involved with dangerous people who only care about enriching themselves.
In different parts of the country today, underage brothels are sprouting. NAPTIP, in conjunction with the Police, has been rescuing girls and shutting down these brothels across the country. From Benin to Adamawa, the stories are the same. These girls are of school age but are not in school and, unfortunately, have found themselves in the enclave of these traffickers and brothel owners. Their age and social-economic status are exploited for financial benefits.
It, therefore, becomes imperative that more be done to protect these young girls. There should be more focus by the government and its agencies in schools across the country on bringing more awareness to young girls about trafficking and how to spot even the most subtle tones when these traffickers are seeking them out.
There should also be a more intentional effort to sensitise young girls on the possible dangers of social media and the importance of being careful and mindful about the things they post and their interactions with persons they may encounter when using social media. Whether online or offline, the aim of these traffickers remains the same.
Young girls deserve to be protected from people who are out to exploit them. They deserve to stay in school and not have their educational journey cut short. The government should, therefore, as a matter of urgency, go after these traffickers, with more stringent punishment meted out to them as a deterrent to others. It is expedient that this becomes a matter of utmost importance, so that young school girls can become safe again.