Life
Understanding Period Poverty and Its Effects
When I launched our non-profit, Sanitary Aid for Nigerian Girls (SANG), I knew that access to sanitary napkins was a problem for many girls and women. Still, nothing prepared me for the scale of a sheer lack of care for the Nigerian girl's menstrual health and the exponential ripple effect it has on other aspects of her life like mental health, education, or even food. I do not think we have fully grasped the magnitude of the impact of period poverty.
What is Period Poverty?
Period poverty is the lack of access to hygiene items, menstrual hygiene education, toilets, hand washing facilities and waste disposal.
In 2017, SANG visited an IDP camp in Jos, Plateau State to distribute pads and speak to the women and girls. The team was met with staunch opposition from the camp leader, who later disclosed privately that the camp was facing a waste management problem. 
We responded by providing the camp with cleaning materials, as well as arranging for a garbage disposal truck to come to the camp twice a week. The camp leader thanked us and then permitted the team to go in, give the women pads and teach them to dispose of them properly. 
We have since learned to approach communities with the awareness that their cultural beliefs influence how accepting they might be of us. 
For example, the idea that education about menstrual hygiene might cause young girls to start having sex has provided a barrier for us in the past. The way we approach the communities we go into influences the partners we work with and has led us to also focus on vulnerability and scalability. 
Our goal is simple: We are committed to ensuring that everyone who needs menstrual products gets them and that they receive appropriate menstrual hygiene education. 
Do girls miss school because they do not have access to pads? 
This year, I set out to investigate and find out for myself the actual situation of things in different parts of Nigeria. The numbers are damning! We surveyed 5,546 girls from 6 geopolitical zones in Nigeria all within school-going age (10-20 years old). We found that 1 in 3 girls had skipped school because they did not have products for their periods. We also found that 1 in 5 girls had missed school more than once because of pads.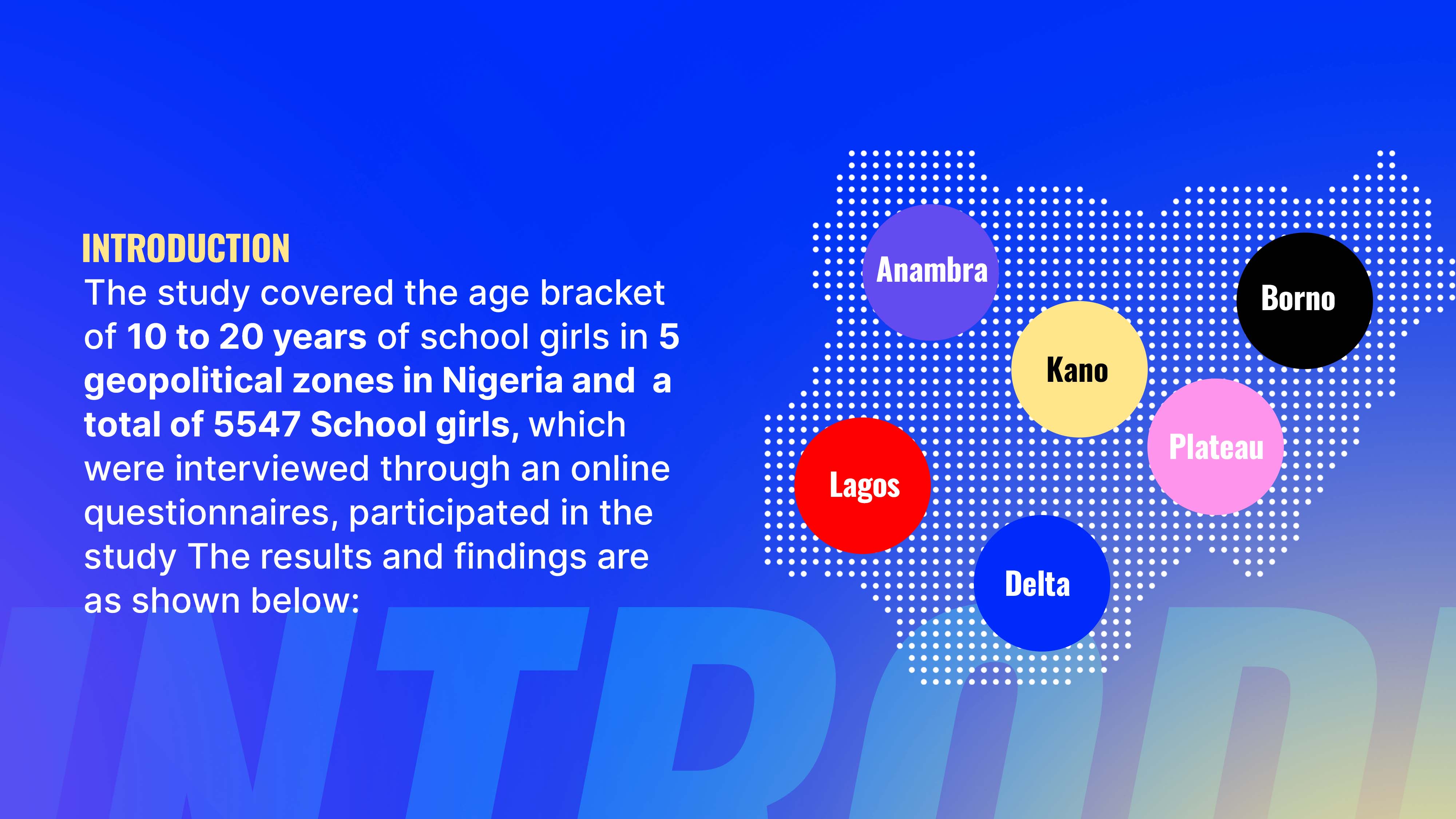 What happens when a girl can't afford pads? 
We heard firsthand from girls who use tissues, socks, old clothes, foam, and even paper to manage their periods. how dehumanizing. Lack of access to safe and hygienic menstrual management can have serious consequences, especially for a girl's education. 
Menstrual hygiene education must be more inclusive. We have learned that girls who are blind require a more tailored approach to menstrual hygiene education as visuals may not work for them. For girls with mobility challenges, there is the issue of accessible toilets and facilities and how to use them. There is also the added challenge faced by girls needing adapted products to manage their periods while living with disabilities. 
We have donated 35,000 pads to girls in schools, refugee camps, prisons, and low-income communities so far, and we see the impact every day. This problem has many facets and extends to all other aspects of poverty; lack of access to clean water, clean toilets, privacy and sometimes good nutrition. It is why we often partner with other organizations to expand our services. 
Period poverty is a challenge too many girls face when they should be focusing on school. 64% of the girls who participated in our study were unable to buy period products because of the price. One of the participants said, "Our parents struggle to pay our school fees. For this reason, buying sanitary pads is not a high priority.'
Through this work, we have realised the importance of sustainable menstruation. Sustainable menstruation means using biodegradable and reusable products for menstruation. This is not only a response to menstrual poverty but also a reflection on the impact that some of the disposable products have on our bodies and the environment.
There are different options such as menstrual cups, menstrual underwear, reusable tampons, etc. Reusable products can last up to 4 years and save women a lot of money in the long run. 
In this study, we found that 34% of girls do not feel confident about their knowledge of menstrual health. They often have questions about managing menstrual cramps and calculating their menstrual cycle.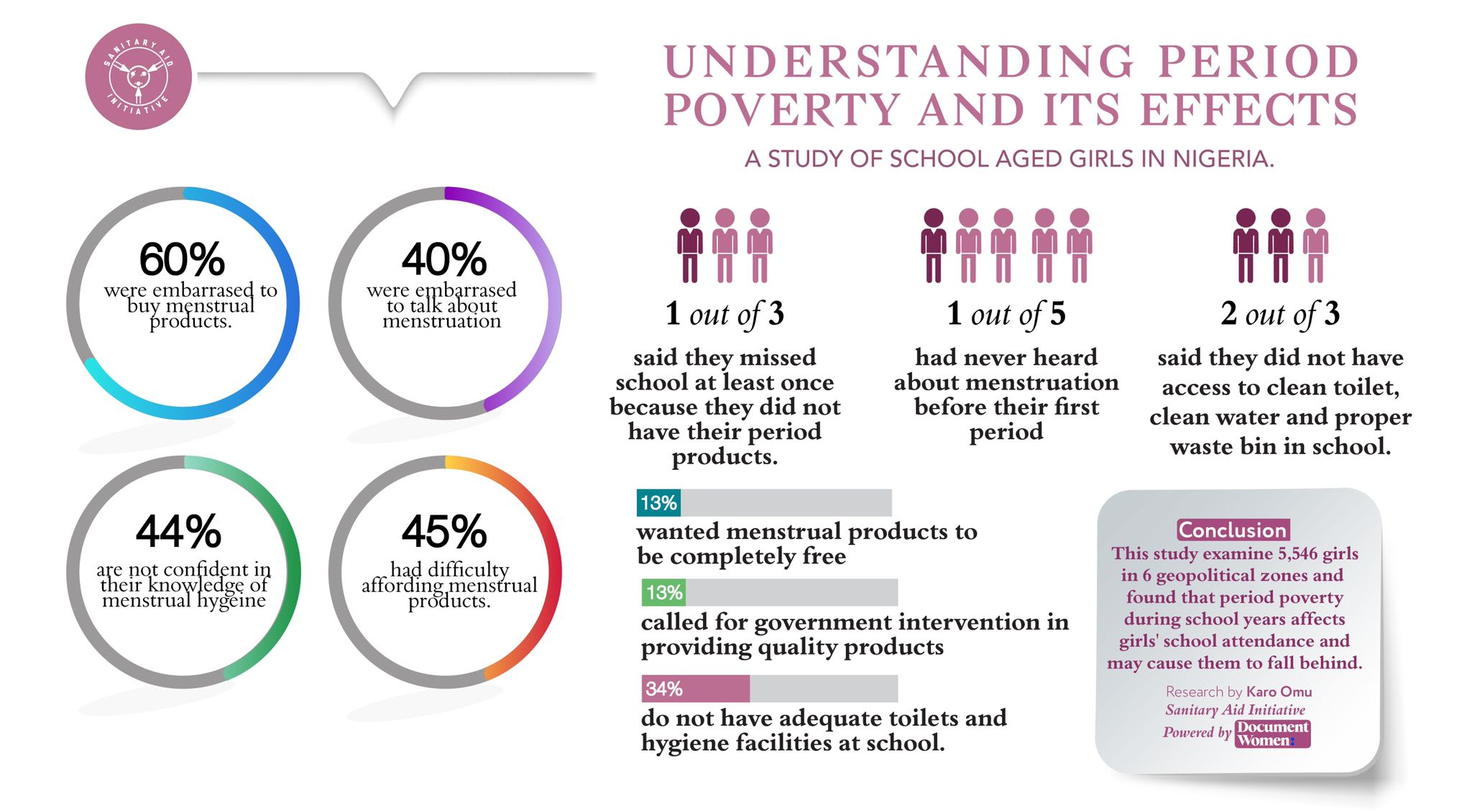 In a short film titled "Free Period", DW illustrates the struggle many low-income women and girls face while trying to afford menstrual products. Period poverty is a reality to many women and girls in low and middle-income nations, who are forced to use rags or even tissues. 
We need to see menstrual hygiene products as essential and put a system in place to ensure they can access the products they need when they need them. This discussion is very nuanced because, in many low-income areas, access to water and less comfortable toilets is poor. Everyone needs clean toilets.
We urge the Government and other state actors to push for policies that ensure easy access to menstrual products, sanitation and hygiene. We recommend investment in research to focus on best and standardised practices for managing menstrual health and work to end period poverty. 
Schools should do their part by providing clean and appropriate washing facilities designed to be inclusive.
As individuals, We implore you to support, advocate and join the conversation so we can all End Period Poverty.  Sign the petition so our girls have free sanitary products at school!
Sanitary Aid Nigeria, through donations from individuals and partners, have provided over 20,000 girls and young women across 13 states in Nigeria with sanitary hygiene products. 
You may find the full report here.