Lifestyle
Dencity Is Changing the Conversation About Women Skateboarding in Nigeria
Skateboarding, now an Olympic sport, has existed since the 1950s. However, as seen with most sports, women and queer people are underrepresented participants.
The vast majority of skateboarders are teenage boys. According to the Tony Hawk Foundation, 77.1 per cent of all skaters are male, and 83.4 per cent of core (more consistent) skaters are male.
In this male-dominated sport home and abroad, Dencity, a women and queer-led community, is dedicated to ushering more women and girls into skateboarding here in Nigeria.
Blessing Ewona, the community's founder, was prompted to create this community out of a need for other girls to skate with.
"When I started skating, there was one other girl that was skating as well, but she stopped skating during that covid period, so after covid, I started skating again, and I missed this girl. So I imagined it'd be really fun if I started skating with other girls."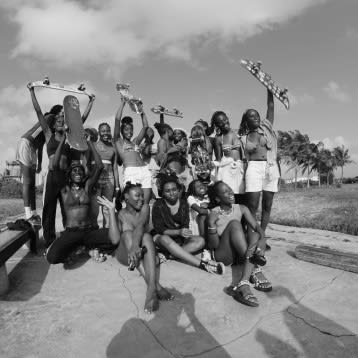 Blessing explains the significance of the name and logo of the group. "When I was younger, I had a conversation with my dad, and he was telling me about how when he was younger, he and his friends used to be 'radicals' as people call it. He wanted to build his own city where people can be themselves and be able to express themselves the way they want to.When I was thinking of a name for Dencity and what I wanted the community to be about, it's like skateboarding but also being able to express ourselves. His name was Eden and he said the name of the community was going to be Edencity."
Though the majority of the members are girls, they aren't the only ones that make up the group. Blessing says "The logo is like a non binary, a no-label thing. That's the idea about it. I was wondering should I just put a girl on a skateboard but it's not just only girls it's for queer people and also non binary people too."
The community has more than 90 members in Lagos, Ibadan, Abuja and Port Harcourt. The group grows through Instagram and word of mouth.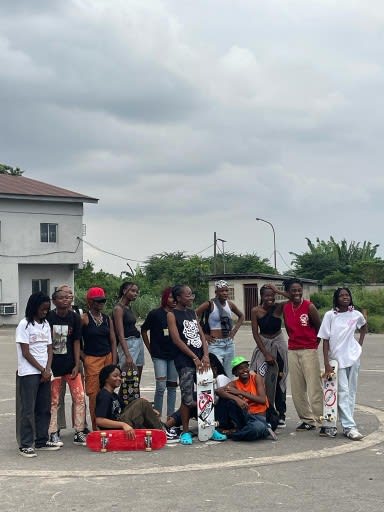 Kaz, a member, first saw an article about the group then saw an Instagram post from the group about a planned skate session and decided to attend. Becoming part of the community is easy. Nothing is needed apart from an interest in skateboarding and dedication. The group is currently open to 16 year olds and above but there are plans to open it to children in the future.
Its existence has provided a space for girls to explore a sport which is seen as a boy's sport. Tecular is a part of the group in Port Harcourt and one of the people Blessing reached out to with the idea of Dencity. She joined the community because girls are the minority in the skating community and having a group can only help to achieve more things.
"Girls are at the bottom of the food chain in the skateboarding community, and we're the minority, so in order to achieve a lot, we have to really come together and work as one body and encourage other girls."
Members learn from each other and everyone lends a helping hand to members who need it. "One thing I love about the girls is that we all help each other. If there's a new person that comes, it's not just me that has to teach the person, there are other people that would want to help. Even if the person cannot land an Ollie or do tricks, they'll still teach this person how to move on the board. It's really nice; it's like building a family."
Other members feel this way too. Osas talks about the ease she feels with the people there 'I love the fact that everyone respects each other. Everyone is not the same age, but they're not bossy towards us. They make me feel at home with them. The very first day I skated with them, I wasn't tense, I felt like I had known them forever".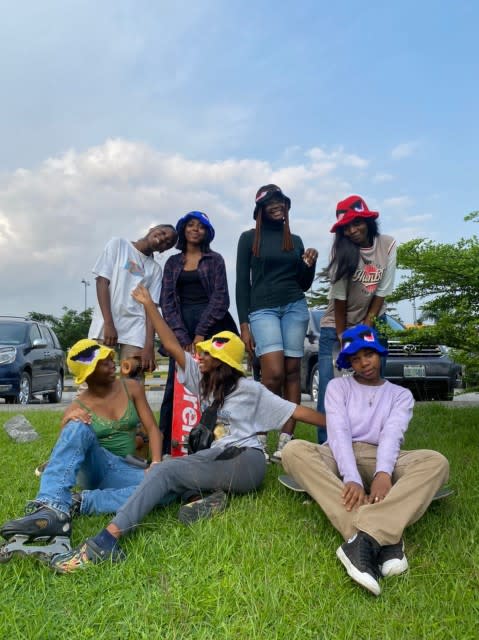 Finding a place to skate or getting a decent skateboard isn't easy. Skateboards are expensive to get, and it's easy for people to get scammed into buying substandard skateboards. Skateboards are donated sometimes and given out to members, but it is not enough for everyone that needs it. Nigeria doesn't have a skatepark, and there aren't many places suitable for skateboarding.
In the National Stadium, where Blessing skates, space is limited. Blessing's goal is to have a skatepark just for the group and an indoor space. For now, they use the National Stadiums in Lagos and Abuja, parking lots, roads, and anywhere they can find.
Dencity plans to host skate meetups in Lagos, Ibadan, Abuja and Port Harcourt later this year, following the award of a grant from The Good Push as part of the PushingAgainstRacism initiative.