Arewa Voices
Meet Zakiyya Abubakar, a self-taught Landscape artist
I meet Zakiyya in front of Queen Amina Hostel in Ahmadu Bello University's Main Campus, Samaru. I spot her in the group of girls leaving the female hostel. She wears a cream veil pinned to a brown Ankara headscarf. We say a few greetings and figure out where to have the interview. It's a Friday afternoon, and the large campus is filled with people chatting, walking around and going about their day, most just returning from Jumaat prayers.
Zakiyya leads me to the fine arts department past Kontagora square and directly opposite the famous sculpture garden. We climb the spiral steps to what she describes as her second department in the school, a painting and drawing studio for final-year fine arts students.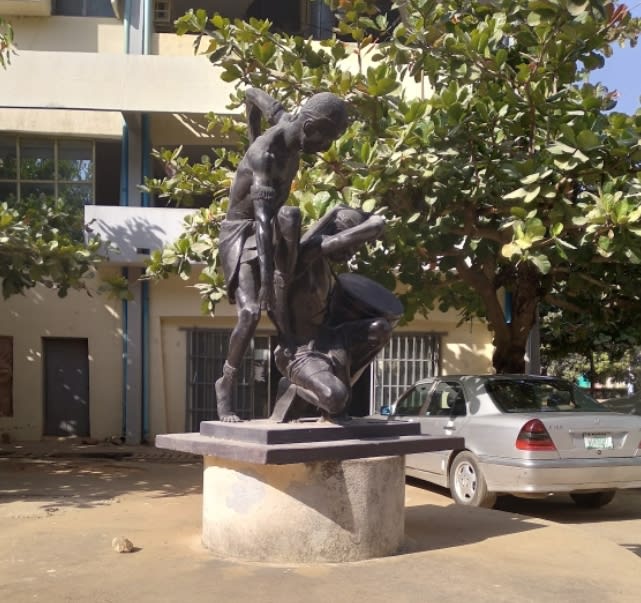 Statue at the entrance of the Fine Arts Department, Ahmadu Bello University, Zaria.
The studio is out of bounds to the public, but Zakiyya has made friends with most students who use the space, and we are allowed to enter the studio.
Zakiyya Abubakar is a self-taught Landscape artist whose primary medium is acrylic on canvas. She began painting during the lockdown. She started selling her paintings when a relative saw some of them and commissioned her to paint 30 pieces for him.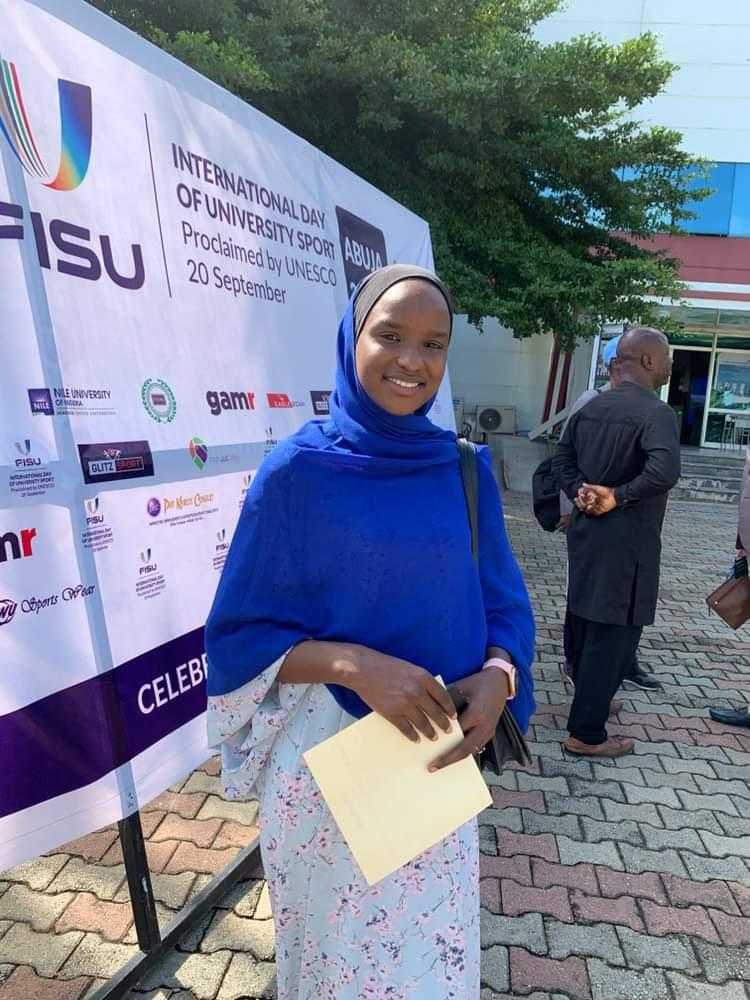 Zakiyya at an event.
'Fine arts department is like my second department in this school,' She says.
She began going to the fine art studio for lessons after meeting one of the lecturers, Dr Nadama, at an art supply store in Zaria. She talked to him about her interest in learning painting and drawing, and he introduced her to Mukthar, who began teaching her the fundamentals of image and elements of art and how to apply them. Mukthar Yusuf, a 400-level student of fine arts painter, illustrator and sequential artist, began teaching her in February 2022.
"When I first started, I expected my artwork to look like what I tried to copy, and it frustrated me when it didn't come out like that."
Zakiyya describes the challenges she faced when she just started painting. We sit in the sculpture garden, and she talks about the snide remarks she got when she began painting.
"Before I was commissioned for my first work, someone said people are struggling to eat, and I'm making art. They asked who would buy the art.''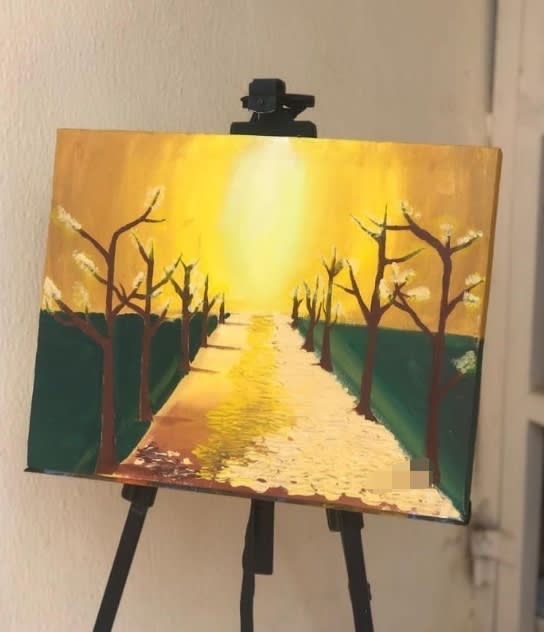 A Painting by Zakiyya Medium Acrylic on canvas.
This did not discourage her though support from her family and friends encouraged her to paint.
"My family was very supportive, my father bought my first set of art supplies, and the relative who commissioned the work is also a like a father to me.''
In 2022 she attended a masterclass training organised by the Nike Art Gallery and the German art centre. This formal training gave Zakiyya her first exhibition at Discovery Museum and refined her style and craft even more.
Speaking on her sources of inspiration, Zakiyya mentions Northern Nigerian artists as her influences and mentors.
"The major influence on my style is the works of Mimi Maigida; I know I mention her a lot'' She says with a laugh.
It is the second time she mentions Maryam Maigida, an Abuja-based abstract painter, art instructor and owner of The Art Cave Gallery in Abuja. Maryam Umar Maigida is a Yobe-born graduate of Fine arts with a concentration in art history from Ahmadu Bello University in Zaria. She is an art historian and a painter. She has participated in over ten group shows, including Denim 2016/2017. And an exhibition in World art Dubai where she represented Nigeria. She is a member of the Female Artists of Nigeria association. Much of her work has been sold both domestically and abroad. Her ability to incorporate her knowledge of art history into her paintings allows her to give them a variety of symbolic interpretations. In an interview, she describes her creations as mediums that serve an aesthetic purpose and communicate with society.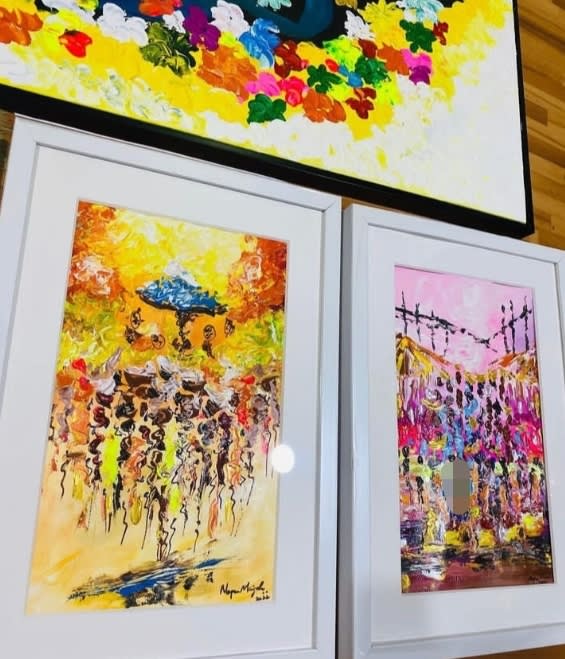 "Ranar can kasuwar" by Maryam Maigida, Medium acrylic on canvas.
She also refers to a lecturer in the fine arts department, Mallam Nura Mukthar mentions this lecturer when I speak to him in the studio; he tells her not to forget him when she says her influences.
Rahma Azeez, a mosaic artist and painter based in Kaduna state, is another of Zakiyya's influences. Rahma's paintings are typically mosaic-partnered portraits as well as landscape and still with acrylic on canvas as her medium.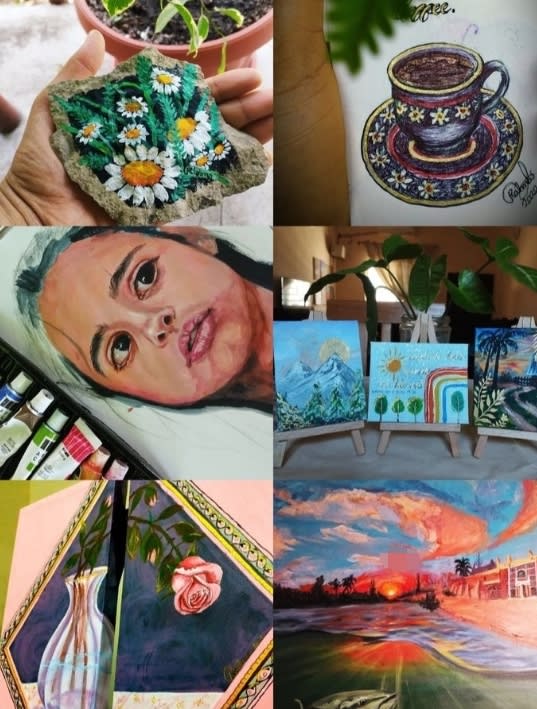 Paintings by Rahma Azeez culled from her Instagram page. Medium acrylic on canvas
Zakiyya mentions female artists when asked about the Northern Nigerian artists who inspire her, but she also says male artists like Imran Tilde, an architect and artist from Kaduna state.
Halima Abubakar, who Zakiyya refers to as Leem_arts, is another significant influence on her work as a visual artist. Halima Abubakar is an Abuja-based artist specialising in Mandala, Mural and Dotilism art.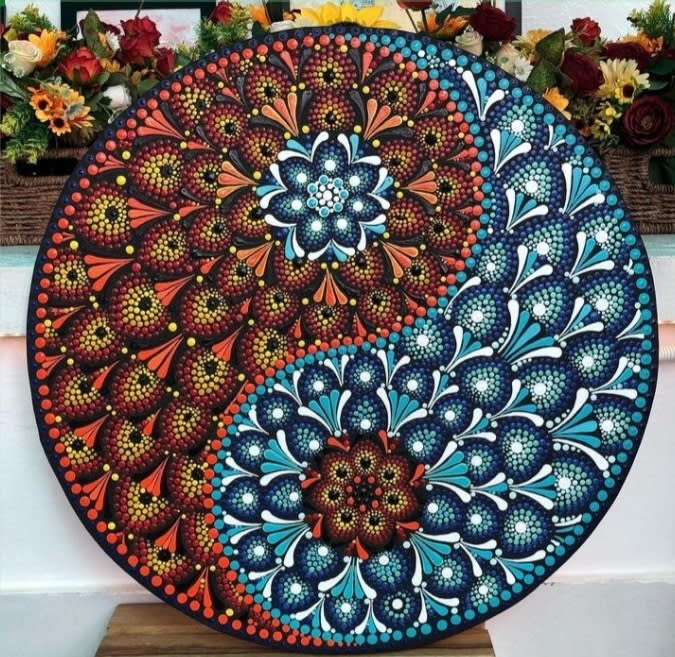 "Fire and Ice" by Halima Abubakar Acrylic on canvas
Towards the end of the interview, Zakiyya recalls meeting Kaltume Gana when I ask about older visual artists from Northern Nigeria.
"I met her once at an exhibition and had a friendly conversation with her. She told us how she started and encouraged us." She also talked about how social media has helped with art sales and how Nigerians see artists.
By the end of the interview, it is about 5 pm, and the weather in the garden starts to get chilly. We finish talking and walk along the sculpture garden; I take pictures of her amidst the sculptures and say goodbye.