Investigations
Quack Therapist: Lies by Faiz Aliyu
Quack (n.):

an unqualified person who makes false claims about, or misrepresents his or her ability or credentials in, medical, mental, or behavioural diagnosis and treatment.
On October 12, 2022, mental health advocacy organization, She Writes Woman released a public service announcement warning all its partners, clients and the general public about its now-dismissed COO, Faiz Muhammad Aliyu.
In the PSA, SWW stated that Mr Aliyu was no longer an employee of its organization as of July 2022.
"As the COO, Faiz Muhammad's job description was limited to managing the team, partnerships and programmes, and his contract did not involve any form of therapy/counselling/psychological interaction," the statement said.
After it had been brought to the organization's notice that Mr Aliyu had been misrepresenting himself to clients and beneficiaries as a psychologist, the organization began an internal probe to confirm his educational background, qualifications and work experience. This probe was then escalated to the police. The investigation by the police revealed that Aliyu defrauded She Writes Woman in excess of N3 million.
"Recent reports, as well as findings uncovered by the Organisation, show that Faiz Muhammad leveraged the reputation of the organisation and its official channels too, without any authority nor permission, charge fees for the free services the Organisation gives out and collect monies (which he diverted into private bank accounts) from beneficiaries of She Writes Woman under the unsubstantiated guise of being a therapist - an act that could endanger the beneficiaries' lives and wellbeing," the statement said.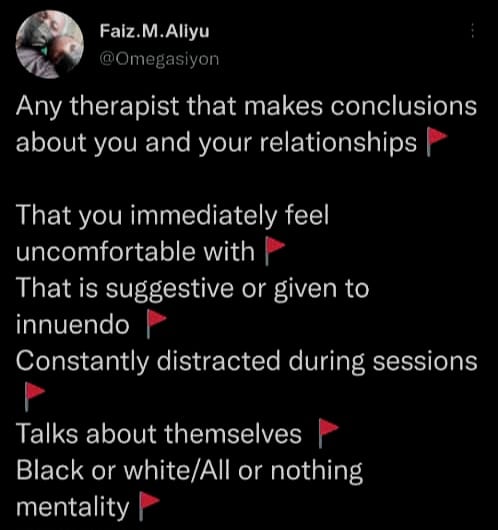 However, parading himself as a mental healthcare provider started long before the probe began. Checks by Document Women revealed that Mr Aliyu had fronted and had been referred to as a psychologist by associates on Twitter dating as far back as 2016.
In 2016, Mr Aliyu made several tweets, mostly comments on everyday topics and politics, under the tweets of some of the members of the so-called 'normads' like Gimba Kakanda, Fakhriyya Hashim, and one Habibatullah ('sassiemoi).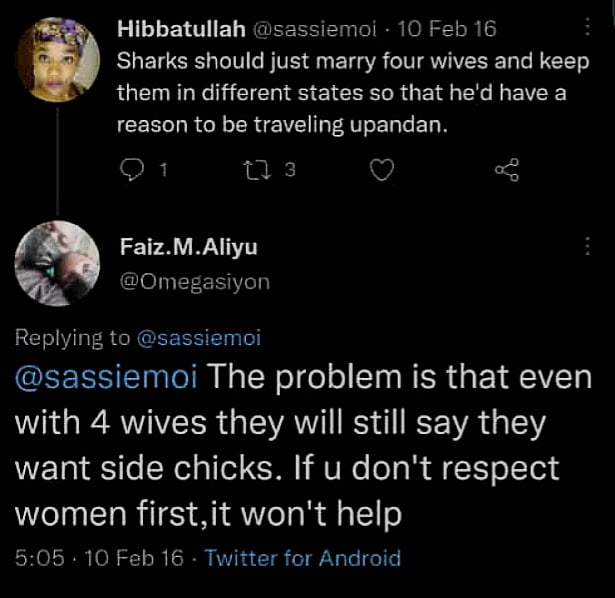 A Twitter page dedicated to the people he defrauded notes that he belonged to a group of friends nicknamed 'normads' with popular activists and figures in the northern Nigeria Twitter space. These associates include Fakhriyya Hashim, Fatima Aliyu, Gimba Kakanda, Abdulnasir Imam (trap poet), Rahama Bungundu, and Firdausi Mansur.
By 2017, Mr Aliyu began commenting during intellectual debates online and leaving compliments under tweets of members of the friend group and other popular activists like Maryam Laushi.
By February 2019, Mr Aliyu was recommended as a therapist on Twitter by Gimba Kakanda.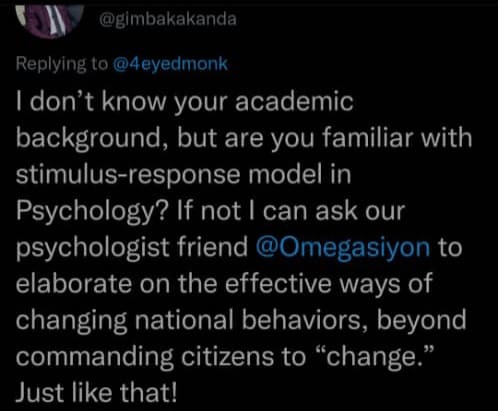 "I don't know your academic background but are you familiar with stimulus-response models in psychology? If not, I can ask our psychologist friend @omegasiyon on the effective ways of changing national behaviours, beyond commanding citizens to 'Change' Just like that!," the now-deleted tweet said.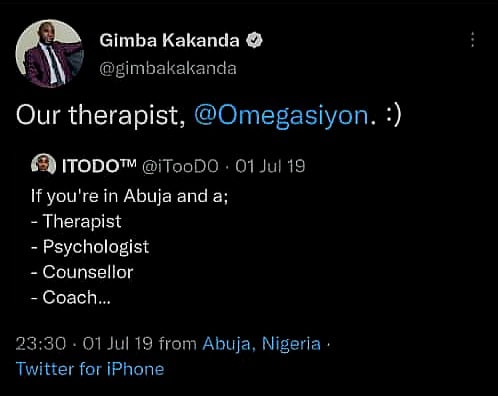 In another tweet, Gimba introduced Mr Aliyu as a Psychologist saying, "our therapist @omegasiyon : )".
Later that year, the #ArewaMeToo movement kicked off, and the #Northnormal rally was actively being promoted on Twitter. Mr Aliyu was an avid supporter of the movement posting the hashtag and photos of himself with the official fliers. His friendship with Fakhriyya Hashim, the #ArewaMeToo Movement convener, observedly blossomed on the timeline, with many tweets directed at each other.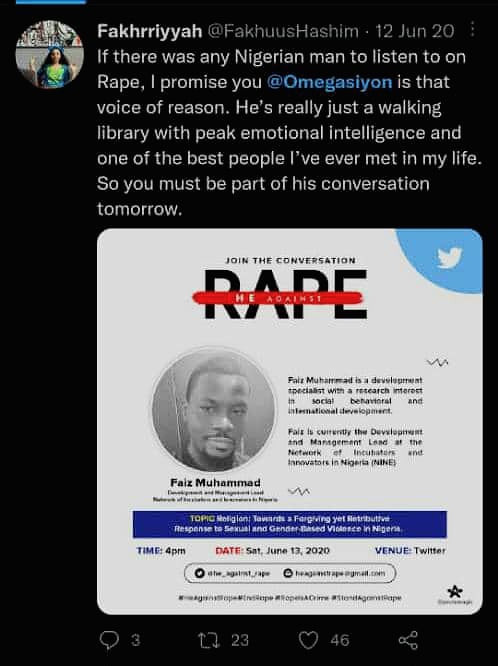 By 2020, Faiz had built a pattern of commenting under tweets of popular feminist activists and feminists on Twitter like Maryam Laushi, Hassana Maina, Wardah Abbas, Yar Kafanchan, and Asiya Rodrigo, and She Writes Woman's CEO Hauwa Ojeifo.
The comments would include compliments, opinions on social issues and sometimes even book reviews and recommendations. With glowing remarks and endorsements on his stance on rape culture and his general thought process and intellectual capability, it is apparent that he would readily be accepted by these groups, which included supporters and members of the mental health community in Nigeria.
There are many tweets showing he had a strong stance against rape culture and the culture of silence. By the end of the year, Mr Aliyu was included in a list of affordable Therapists in Nigeria by Twitter user @H_L_MA. The mention also included his hourly rates.
His position as a therapist was further publicly endorsed as invitations to tweet chats by NGOs came in. In June 2020, He was invited to speak on Rape Culture in a tweet chat. 2021 was the peak of Faiz's public appearances as a psychologist before his employment at She Writes Woman.
There were recommendations online made by Usman Shamaki and instances where he referred to himself as a "therapist", "a psychologist" and "a clinical psychologist" in conversations with Twitter users and his associates; these instances date as far back as 2018.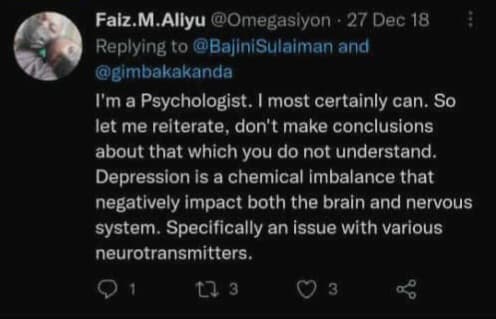 Document Women reached out to Mr Aliyu's mutuals on Twitter for comments; Fahkriyyah Hashim, Rahma Bungudu and Gimba Kakanda. Fahkriyyah Hashim declined to answer any questions. Messages to Gimba Kakanda and Rahma Bungudu were left unanswered.
After he was employed to run the operations of She Writes Woman, complaints from SWW beneficiaries noting charges on freely offered services pushed the organisation to temporarily suspend Mr Aliyu's access to company resources.
Forged invoices and unauthorized business transactions in the name of the organisation with Mr Aliyu's private bank account details attached to them were found, along with other undisclosed documents.
SWW's management disclosed that efforts to reach Mr Aliyu about their discoveries proved abortive as he immediately shut down communication and turned in his resignation without due notice. His next of kin and family had been contacted six weeks ahead of the official press statement, but after initial cooperation, communication slowed to a stop.
SWW clarified that the background checks carried out at the time of Mr Aliyu's employment showed most of the qualifications on his resume relating to a training and work experience in psychology and membership in the American Psychological Association.
These all turned out false as checks by Document Women revealed inconsistencies in the documents listing Mr Aliyu's professional experience. Mr Aliyu's Linkedin profile had no mention of a background or work experience as a psychologist. Notably, his Linkedin profile & resume lists Mr Aliyu as the national spokesperson for the Movement Against Rape and Sexual Violence (MarsV Nigeria).
In his resume, seen by Document Women, Mr Aliyu falsely claimed he obtained his master's from the Chicago School of Professional Psychology, had a membership in the American Psychological Association and worked as a psychologist at UK-based NGO Mobi Health International. However, checks revealed that these degrees do not exist in his name.
SWW CEO Hauwa Ojeifo disclosed that the victims found by the organization ahead of the initial disclaimer were 12. Within 48 hours of the disclaimer, the number of people who were affected by him in terms of personal and professional fraud increased to 30 people. Most of the victims who came forward revealed sexual impropriety from Mr Aliyu as a therapist and later instances of being threatened into silence by him and his family.